THE chart topping hit "Where is the Love?" of the Black Eyed Peas say so much that we should understand more than just sing along. Before we complet
ely overlook the wicked things that could possibly bring us to hell, let us open our eyes and realize first that the world is not anymore a better place to live in. This cruel reality is much feared; what if the countdown for the end of the world begins now? But before I give you the scenario of the likes in the Revelation, let me dissect the lines of the song and why also should we need to cry out loud Michael Jackson's "Heal the World."
People killin', people dyin'. Ch
ildren are hurt and you hear the
m cry
ing.
Indeed, people kill their neighbors—even themselves and their own children. Within the month of September alone, turning on the TV and catching morbid scenes of brutal killing of a life or worst of hundreds of lives, will make you lose your appetite. First, the incident of a father who committed suicide, carrying his year-old son, by leaping off from a skywalk is an unspeakable act of cowardice. In this world of economic crisis, poverty and pressures there is a great suicidal tendency in many. The equation is simple:
hopelessness + despair = suicide.
What about the life of the child that was lost in a split second?
Second, the terrorist encroachment in Beslan, one of the schools in North Ossetia, Russia that kept the young students-hostages for days was a deliberate attempt to end the lives of innocent children, treating them as toys without food and scaring them with guns and explosive bombs, causing a traumatic ordeal to the surviving kids. The terrorist group led by two Chechen leaders, executed their rebellious authority after the Russian government failed to free them and their land. They would rather barter the lives of the children for $10M ransom. As soon as the hostage-taking was over, at least three hundred of the victims were recovered dead and the remaining were physically wounded and emotionally shocked. More families, and the world once again, were brought to their knees after the condemnable terrorist outbreak.
Can you practice what you preach? And would you turn your other cheek? If only people are considerate we wouldn't experience devastating incidents. I have recently read in Time magazine that the failure to check the passengers and their baggage caused the explosion which tore down the Superferry 14 last February 26 and claimed a hundred or more lives. The perpetrator of the attack hurled a cardboard box containing a TV set packed with 3.6 kg TNT and was able to slip away just before the ferry cast off. It was a scenario of floating inferno when the bomb exploded and fire engulfed the ship. What's wrong? The security officials failed to check the ferry-passenger lists which could have set off deafening alarm bells because the person responsible for the assault is an Abu Sayyaf who used the name of the group's former member and who is also notorious for carrying previous attacks.
Father, father, father help us. Send us some guidance from above. These are mere indications that the world is like a bomb triggered by a timing device ready to explode anytime. A portrait where terrorists continue to rampage around, people kill their own fellows and where lives are not given freedom to exist. Just when you thought you live with security and safety, think again. It's either you join the countdown for the end of the world or do something to turn back time. Then, you ask, where is the love?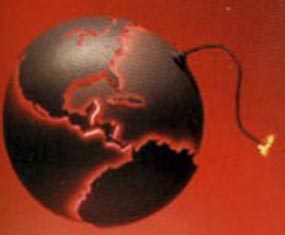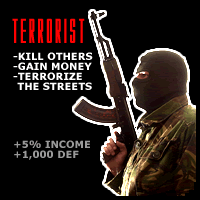 (Published in The Augustinian, September 15, 2004 issue)